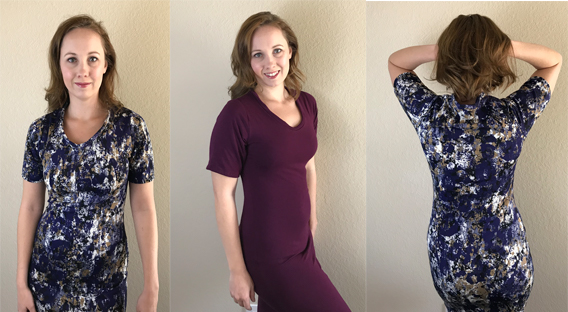 As part of my 2017 I mean 2018 sewing goals I am participating in the Sew My Style challenge. The first make of the year was the Sunny Dress/Top from Friday Pattern Company, which is a T-Shirt style shirt dress. If I were to have seen this dress in the store I would have said that looks cute and then passed on to something else. But for some reason, I fell head over heels for this pattern and decided to not make it once but twice!
THE FABRIC
My father-in-law gave me a very generous gift card to JoAnn's for Christmas and with that I picked up two selections for this make.
The first is a burgundy jersey knit. My obsession with the color burgundy has continued to spill over into 2018 and may just end up being my favorite closet color here soon. The material is buttery soft and just makes you think of your favorite well-worn t-shirt.
The second selection is a blue and gold scuba knit fabric. I love wearing blue tones and I have heard from a few friends that I need to venture into prints so I thought this would be a good opportunity. I've also wanted to see what working with scuba knit was like and thought this was the perfect opportunity.
THE PATTERN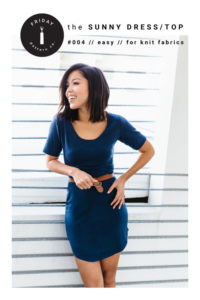 This was a super simple pattern to use. It is definitely one of those done in an afternoon kind of patterns. I'm actually really excited to try and make a couple tops from it. I did find the measurements to be very true to size. I made my dresses both in a size small and they came out very body hugging in the waist and hip area. Next time I will try grading the pattern a little bit to the next size up in those two areas.
MACHINES
For assembling, I used my tried and true Brother Overlocker/Serger for the main seams. This is a great serger for the price and it has yet to give me fits.
For the hems I got to try out my new Janome Coverpro 100CPX. I still have a lot to learn in how to use it, as I had to rip out seams a few times to just to get them flat. But it is a fun little machine.
FINAL THOUGHTS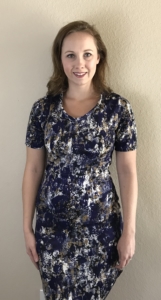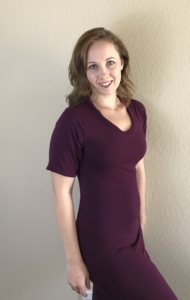 All in all I love these little shirt dresses and can't wait to wear them on a lazy sunny day. They maybe shortened down the road into tops as I tend to wear more pants than skirts but we shall see how much wear they get.