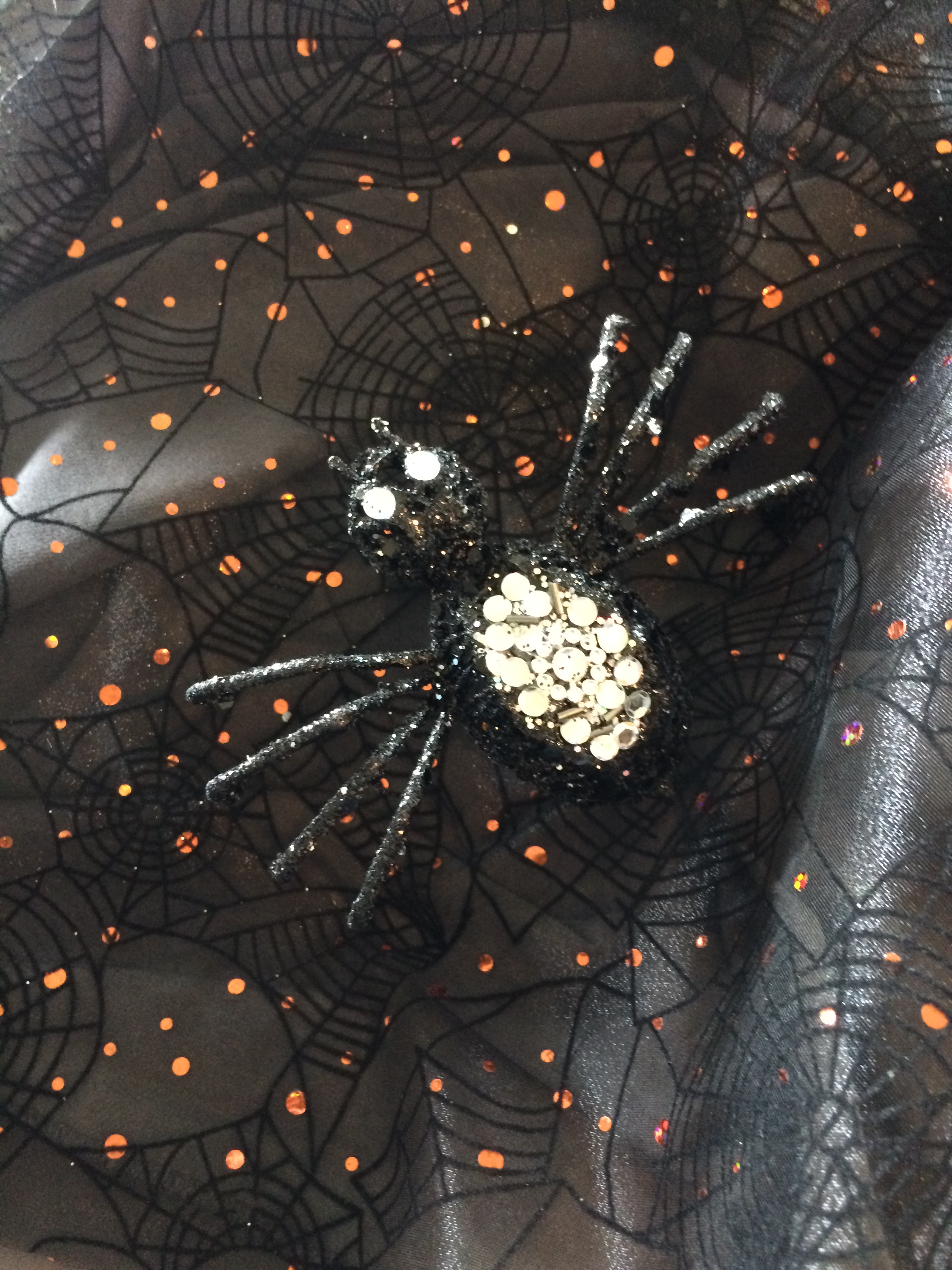 I have the most adorable niece. Not only is she incredibly pretty but she is also smart and talented in so many different ways. One thing that her and I currently share is a love for sketching outfits and creating the most perfect costumes.
I've been dying to make her a beautiful dress. I picked up the new Cinderella costume pattern only to be told by her mom that she wasn't quite into that at the moment after she had come home from a slumber party declaring that she no longer wanted to wear dresses or play with barbies. I'm not going to lie, my heart was broken a little but I remember doing this once when I was about her age. (For me the no barbie part didn't last long, I played with barbies at home till about 12.)
But a couple of months ago her mom came to me and asked if I would make her Halloween costume. I was thrilled and of course I said yes.
She was looking for a "rockabilly" style of dress but unfortunately they don't make them in a girls size 8. My niece also wanted to match her mom, which is a tall order to fill as I have yet to find a wrap dress pattern for little girls. (If you find one let me know I'd love to try it out.)
So I searched and searched for a patter that would fulfill her vision and came across The Appelstroop Dress pattern by The ELI Monster.
It has a slight rockabilly vibe to it and I loved the open back. Business in the front, party in the back. 😉
Once she approved of the pattern it was time to take her fabric shopping. She was going for a spider theme and wanted it all black, very admit about the all black part. After looking at a couple of different web and spider designs we stumbled across this beautiful organza with a spider web pattern and orange sequins.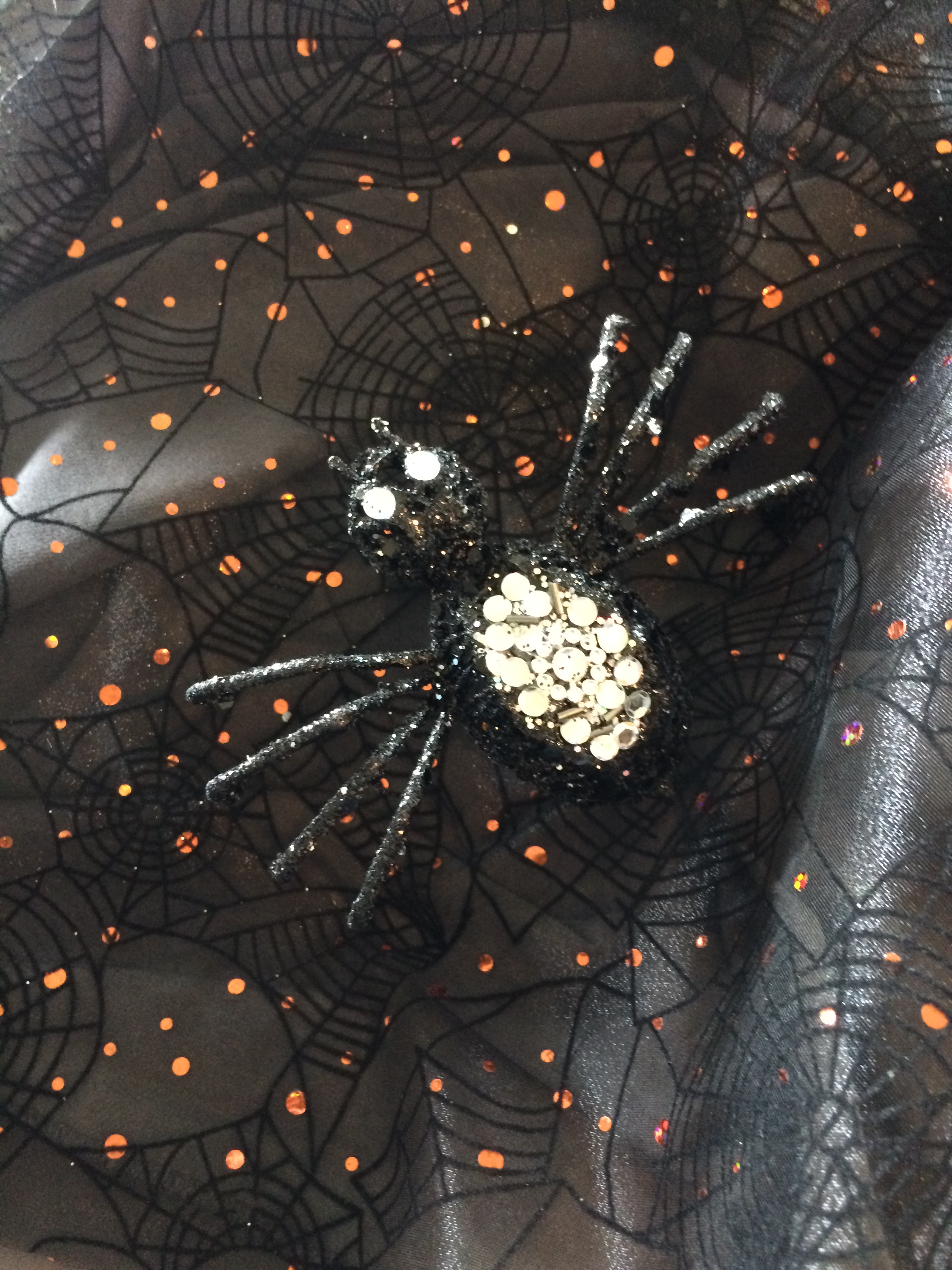 We layered the organza over a grey __ to help the design pop. She also wanted to substitute the bow for a large spider, thank goodness for it being Halloween time. I found the biggest glitter spider I could and spoiler, it looked amazing on the finished dress.
Once the pattern pieces were cut I basted together the organza and grey under layer to make sure everything stayed in it's place. (Working with organza in the past I know just how finicky they can be.) For this project instead of using pins I relied on my Wonder Clips from Evergreen Art Supply to preserve the material.
The bodice was a bit tricky at the final stage of sewing. It's some what like making a small vest and since I had never made a vest before nor a jacket so this was for sure a new experience. One thing you have to do is ONLY sew the neck and arm seams together, it is highly recommended to leave the sides open so you can flip the garment to the right side out.
The fist side seam went together like a breeze, it was a little different but it was still fairly simple. The second side seam took my 3 or 4 attempts to get right. My recommendation to assemble that second side seam is to go ahead and flip it back to wrong sides out just for that half of the garment and then flip it back again. Made my life so much easier.
To complete the dress you assemble a waist band and cinch skirt. Now the skirt is a super simple cinch skirt that you just cut blocks of fabric out of and cinch the top to match the ends of the waist band.
I oops again and maid the lining on my waist band a little short in some places and a little long in others. To remedy this I used this wonderful Flex-Lace Hem Tape. This stuff is a dream come true, it's perfect for closing linings and of course to finish your skirts with a lovely hem.
To finish up the skirt I sewed the Flex-Lace tape onto the gray layer of the dress and an inexpensive organza ribbon to the organza layer. I was originally planning on completing the hems by folding up the hem tapes and creating a nice seam but once I ironed them out they were too pretty to hide.
For the closures I picked out an antique looking clasp for the lower back and finished the top with hook and eyes and glued a brooch pin to the belly of a large glittery spider. A little different from the pattern recommendations.
There you have a beautiful spider dress for my little niece. Her mom sent me a message the other day say that my niece wishes Halloween was a week long so she could wear her dress everyday. That just made my heart melt. Two happy clients down so many more to go.