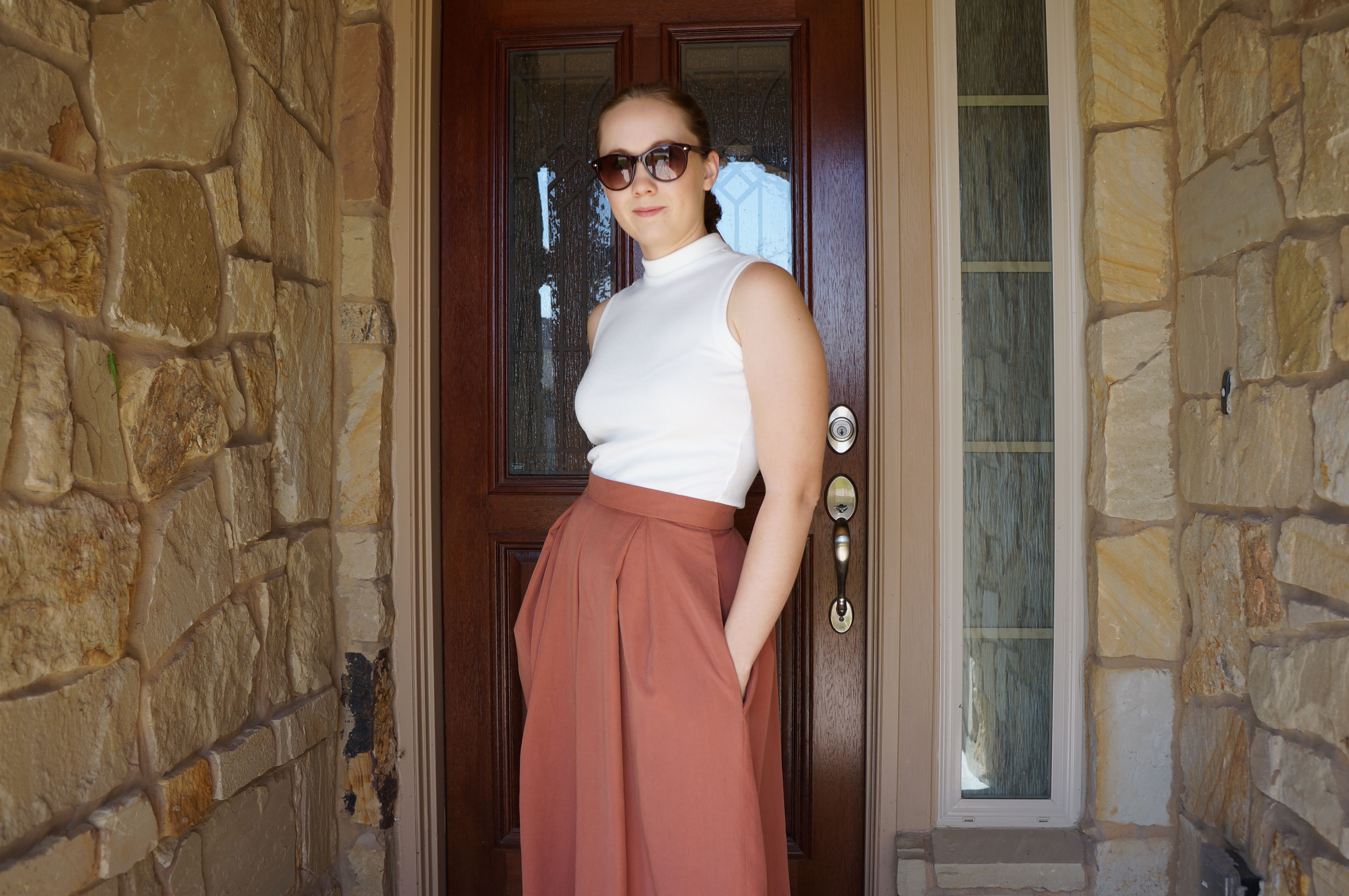 Well folks I'm back to chat with you about my latest makes. I didn't sew much in February mostly because it was gloomy and cold here in Southeast Texas, which is so rare. So I wanted to savor the moment and soak it all in. This gave me plenty of time to rethink my #2018MakeNine and my spring wardrobe.
I did sew a beautiful white Nikko top in February. I have to say I am very proud of it because it is forcing me to step out of my comfort zone in terms of tops and it's not something that I would have normally sewn for myself.
My first make of March was the Winslow Culottes from Helen's Closet. To be honest, when I saw these pants at first I was not that into them. After I saw the Nikko Top though I knew that they had to go together. Honestly, I don't know why I wasn't into them. These are so comfy and chic. I feel like a fashion blogger with $$$ to spend when wearing this  outfit.
So this whole outfit I'm naming the "Let's do Brunch" outfit. If just feels like something that one would wear to be fashionable at brunch.
Nikko Top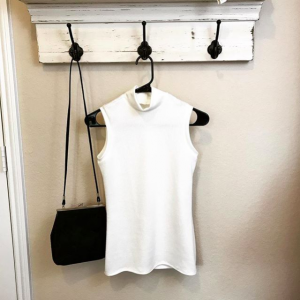 The Nikko Top from True Bias is literally the easiest top I have ever assembled in my life. After cutting out the top it took me all of 1 hour (tops) to assemble. #lifemade The reason why it even took me this long was because I had to figure out how to use clear elastic.
The top is described as a "simple and stylish mock turtleneck…that is perfect to pair with a high waisted bottom…cut to resemble a racerback, but with enough coverage to wear a regular bra."
I used the Rib Sweater Knit in the color Snow from Blackbird Fabrics. It has slightly less stretch than is recommended for the top patter but I don't have an issue with that. I just have to remember to put this top on before I put on my makeup in the morning. This rib knit is so comfortable and soft. Really great for this style.
Here is the site description of the material. "Lightweight ribbed sweater knit with a soft hand and great recovery. This fabric has a smooth back that offers stability and a bit of structure to this sweater knit. Ribs are 2 millimetres wide."
The part of this top that is pushing me out of my comfort zone slightly is the turtle neck. I've never really been a turtle neck type person. (They kind of make me feel like I'm chocking.) I do find the the collar itself is a little too high for my liking so I roll it down as a compromise to make it a little shorter.
Winslow Culottes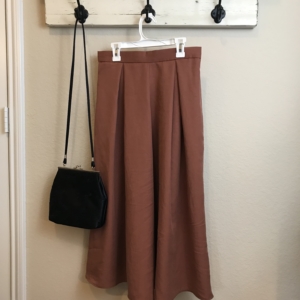 Like I said before, I wasn't thrilled with this pattern at first. Why? I'm not sure. But I can now say that I am forever in love and I need a pair in black ASAP.
The designer description of the pants. "The Winslow Culottes are wide-legged pants designed for ultimate comfort and style.  This pattern is intended to be made at any length, from shorts to full-length palazzo pants. The design features inseam pockets, an invisible zipper, a waistband, and inverted box pleats."
I'm really in love with these. I just feel so on trend when wearing them with my Nikko top. The material I used was a Tencel twill woven fabric in the color Cedarwood  from Blackbird Fabrics. (It's no longer in stock but you can buy it in Tan here.) "This fabric has a really cool and modern look and a beautiful drape. This tencel twill has a subtle brushed surface similar to a sandwashed silk." This material frayed slightly while working with it but nothing a little finished edge will take care of.
The instructions for this pattern were literally the easiest to follow. I loved the illustrations and the fact that finishing the raw edge of the material was included amongst the steps. There have been so many times that I have just cranked along my project neglecting to finish the raw edge.
Final Thoughts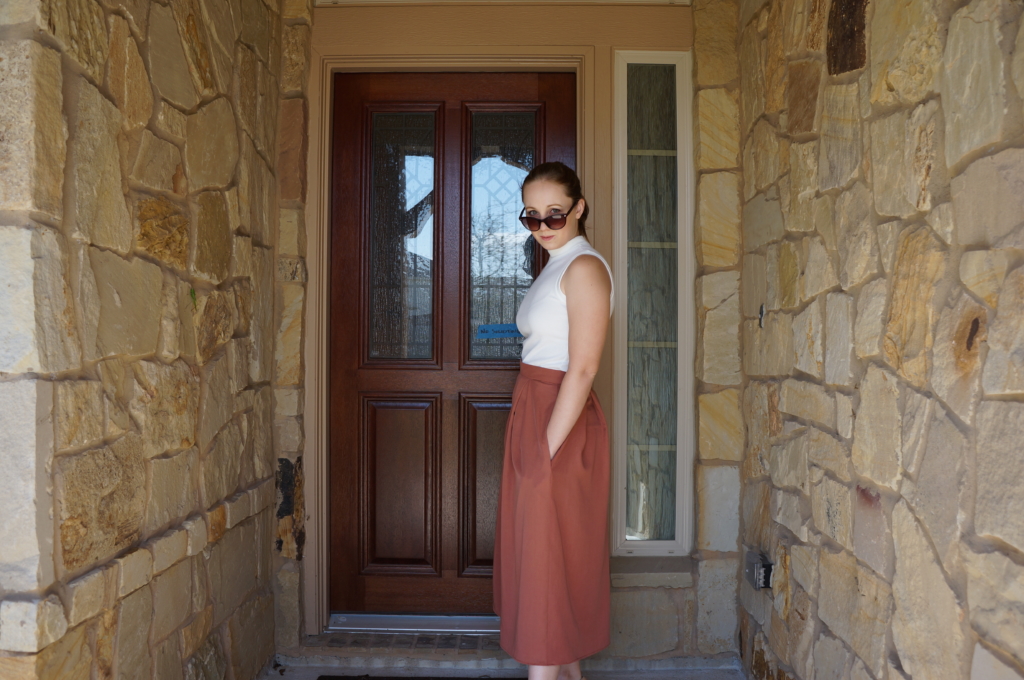 I have never felt more confident in an outfit than I do right now. It's just great how the right fit and the right pieces give you this powerful feeling of being put together. These are going to be some great staples in my spring/summer wardrobe.
There is plenty more white rib knit left in my stash that I will possibly be making another Nikko top with a slightly different neck like. (Perhaps go even shorter.) I will also be making at least one more pair of culottes to wear around. (May even try the shortest version.)
I'm just too excited about this killer outfit and I hope this has encouraged you to make your own brunch outfit.