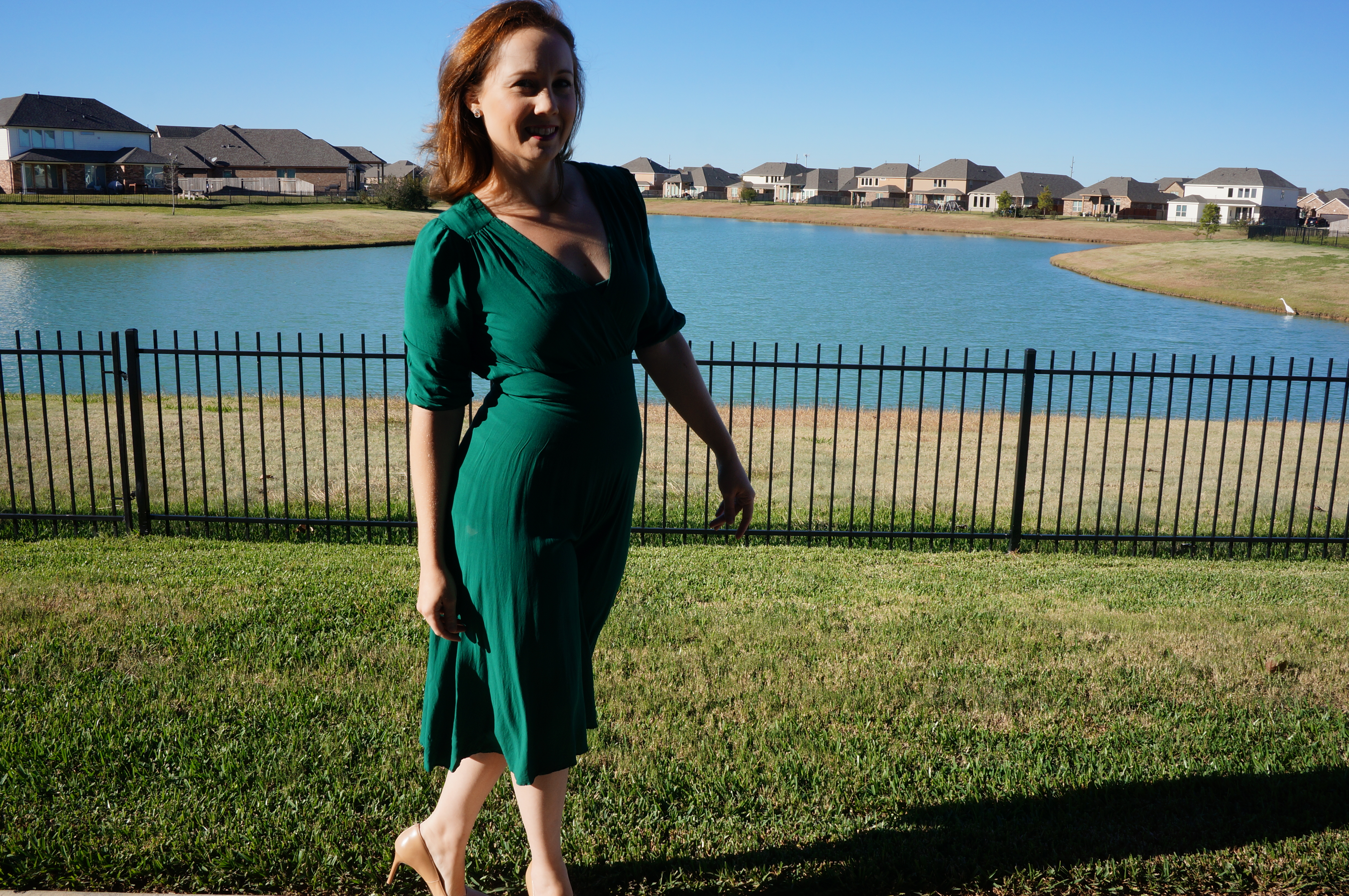 Note: This post is a few weeks late due to the fact that I have lost most of my photos for this make because I need to become more organized.
I've been throughly excited to create this green Christmas dress that I immediately jumped straight to it back in October. I originally tried to pull off assembling the whole dress the evening prior to our trip to Vegas back in October but that was just not as successful as I wanted it to be. In the end it was great that I did that because I was able to work out a few design flaws that I didn't previously foresee.
I got the inspiration for this dress from Emily Hallman (you can read about her dress in this post). She used the top of Butterick B5878 view B and drafted a simple circle skirt instead of doing the multi tier version in the pattern. It came out ever so lovely but I wanted to make a couple of adjustments for my self as my body type is slightly different.
For my version I turned the elastic waist into a waist band, shortened the bodice to accommodate for the new waistband, and added a side zip since we removed the elasticity from the dress. I also used the same material as the original inspiration which is a Telio Viscose Rayon Challis Emerald. You can purchase this material from Fabric.com I enjoyed the material so much I ordered a second batch.
For most dresses with a waistband I usually have to shorten the bodice considerably in order for the center to actually hit my waist. (The curse of being slightly on the petite side of the fashion spectrum.) Adding in the waistband made it even more important that I shorten the pattern. However, even after doing the due diligence of shortening the pattern, I still had to take up the waist after my first fitting as the bodice was still too long for me.
For the skirt I did the same as Emily and drafted out a simple circle skirt. I struggle with getting the calculations for these skirts right however several fashion brands have put circle skirt calculators on their websites. For this skirt I used the calculator from ByHandLondon.com which took out the difficult part of figuring the right math. It turns out that I did not have enough material to do a full circle but I did have enough to make a half circle.
Once I got everything altered and assembled I tried on the dress, this was B.Z. (before zipper), so I defiantly had to shimmy into the dress trying not to pop a seam. This was very difficult and frustrating to do so I decided to install an invisible zipper along the side seam as there was no seam down the back which is where I typically place my zippers.
Each time I install a zipper I get a little bit better. It helps that over the last year I have really been following the sewing community and have been watching a ton of Instagram Stories. @Hoppin_Bobbin on Insta always shares the best sewing tips that she either stumbles upon or learns from her mom. The latest trick I learned from her was that when you iron out your invisible zipper it should be so flattened that it will fold in half when it's zipped back up. (I've included a photo below so you can see I'm not crazy.) This allows you to get as close to the zipper teeth as possible while sewing and it's a brilliant idea.
Once the zipper was installed everything was ready to wear except for the hem and sleeves.
The material that I decided to use is very delicate, probably some of the most delicate that I have ever worked with. So on thing that I realized I had to do was serge every seam and edge before hemming or finishing.
To level the hem I used this new to me tool, the Dritz Deluxe Chalk Hem Marker. My mom actually purchased this for me and it is really quite nice and supper handy as I can now get an even hem all the way around the garment and it's not high in one spot and low in another.
At the end of the day there would be somethings that I would do differently next time, like french seams since this material frays like no other, but I am very pleased with this make and have happily hung it up in my closet. No bad bin for this make.
Fall/Winter Wardrobe Make 3/6 Complete